World news story
Seeds of success target small and medium businesses in Bekaa
Ambassador Shorter visited ongoing UK funded projects in Zahle benefiting small and medium businesses and local communities.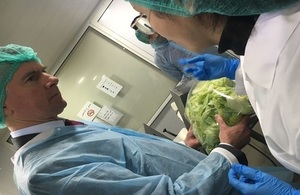 With determination, perseverance and training, small and medium enterprises in Zahle have turned into professional businesses with new organisational structures and expanded their market with UK Aid support under the flagship project 'INTAJ' led by Mercy Corps. The programme is aimed at addressing Lebanese communities' economic needs in the Bekaa and North Lebanon.
British Ambassador Hugo Shorter visited 'Agrifresh' and 'Kayssar Atta' businesses that have benefitted from this programme. Through training of staff and provision of consultancy services both businesses have created new full-time employment opportunities (jobs) and increased their sales.
He also held meetings with Zahle Bloc MPs and head of the Municipal Council Asaad Zgheib where discussions focused on the overall situation in the country.
At the end of his visit Ambassador Shorter said:
It is always a pleasure to return to Zahle to follow-up on UK-funded projects supporting local businesses and communities. We are keen to continue working with Lebanon on opportunities that are making a real difference in people's daily lives though our strong and longstanding relationship. By March 2018 the UK would have invested £12.7m in this programme targeting much needed economic opportunities. You have asked and we are delivering.

I had a good meeting with Zahle bloc MPs and the mayor in which I reiterated the UK's ongoing support to local communities up and down the country. We recognise the huge challenges facing many local businesses and municipalities. I am encouraged by projects like 'INTAJ' which by March 2018, will see 2400 people trained, 120 businesses supported and improve waste sorting for over 40,0000 households. I was also pleased to meet the female employees today from Agrifresh and Kayssar Atta improving their lives and their communities' economy and wish them a happy International Women's Day. With parliamentary elections coming up, I hope that we will see more women participation in the next parliament and government.
Agrifresh beneficiary Nicole said:
I graduated with a degree in accounting and couldn't find a job. I'm extremely happy that this programme has opened doors for small and medium sized enterprises to grow allowing them to create new jobs. I was successful in the interview process and have been working for Agrifresh for two months.
Notes to Editors
By creating jobs and identifying economic opportunities INTAJ is working across 3 levels: skills training for individuals; supporting small and medium sized enterprises; and working with communities to support the development of solid waste management and recycling.
Published 8 March 2017