Security and countering violent extremism on the agenda at the Quintet of Attorneys General in Washington
The Attorneys General and other ministerial representatives from 5 countries recently met in Washington DC to discuss continued successful cooperation on a range of national security measures.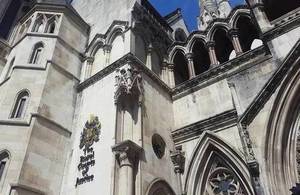 The Attorney General Jeremy Wright QC MP joined the Home Secretary Theresa May at the event, which ran from February 16-17.
Topics on the agenda included increasing security, countering serious and organized crime, and enhancing border management.
Other topics discussed at the event included:
counterterrorism,
foreign investment in critical infrastructure,
cybersecurity,
refugee and migration challenges and patterns,
visa-free travel programs
information sharing
Attorney General Jeremy Wright said:
"At the conclusion of another productive Quintet, ministers from the five countries again confirmed the importance of coordinated efforts to counter violent extremism and other national security issues.
"These types of issues evolve rapidly and present governments with fresh challenges in how best to protect the public. By looking at how we can improve information sharing and best-practice models between our nations, we can continue to adapt our systems in order to better protect citizens and communities."
Background
The Quintet is an annual meeting of Attorneys General to share experience in dealing with complex and cross-border legal issues.
The attendees at this year's Quintet were:
US Attorney General, Loretta Lynch
Secretary, U.S Department of Homeland Security, Jeh Johnson
Australian Attorney-General, George Brandis
Australian Minister for Immigration and Border Protection, Peter Dutton
Canadian Public Safety Minister, Ralph Goodale
Canadian Minister of Justice, Jody Wilson-Raybould
Canadian Minister of Immigration, Refugees and Citizenship, John McCallum
New Zealand Attorney General, Christopher Finlayson
United Kingdom Home Secretary, Theresa May
United Kingdom Attorney General Jeremy Wright
Published 18 February 2016