News story
Secretary of State highlights Edinburgh firm's 'Standard of Excellence'
Scottish Secretary underlines the valuable role the Queen's Awards has for Scottish businesses as he visited one of this year's winners.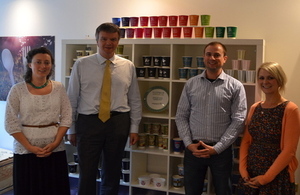 An Edinburgh firm which was one of this year's recipients of the prestigious Queen's Award for Enterprise was today visted by Scottish Secretary Michael Moore.
Vegware was one of four Edinburgh-based firms to receive the award - the others were HotDocs, Petroleum Experts and The Innis and Gunn Brewing Company.
Established in 2008, Vegware is the UK's first and only completely compostable food packaging firm and received the Queen's Award in recognition of their work to develop zero waste food packaging, promote sustainability and contribute to economic growth.
Vegware, which has grown from two employees in 2009 to 27 today, now has operational bases in North America, South Africa and Australia, together with Europe-wide distribution. Their clients range from contract caterers and UK government offices to independent artisan delis and cafes.
Mr Moore said:
The Queen's Awards are a standard of excellence which recognises the UK's world class businesses who are growing, creating jobs and making a valuable contribution to the economy.

It was a pleasure to visit one such Scottish winner today, Vegware and hear more about their remarkable fifteen-fold growth over the past four years. From seeing their business first hand both today it is clear that their Queen's Award for Enterprise is fully merited.

From moving to take 35,000 businesses in Scotland out of National Insurance contributions altogether and using the considerable efforts of the FCO's and UKTI's diplomatic, trade and embassy networks, the UK Government is taking action both at home and overseas to help more Scottish businesses grow at home and subsequently promote our excellence overseas boosting the Scottish economy in the process.
Yesterday Lord Provost the Rt Hon Donald Wilson, the Queen's representative in Edinburgh, officially presented the Queens Award for Enterprise to Vegware's Managing Director Joe Frankel.
Speaking after receiving the award and the visit today from the Secretary of State, Mr Frankel said:
We are pleased that the Secretary of State sees the importance of Vegware's contribution not only to employment and international trade, but also to Scottish sustainability. With under six months until Scotland's new waste regulations kick in, Vegware's compostable food packaging is ideally placed to help businesses go zero waste. Mr Moore's visit was an opportunity to highlight how Scotland's pioneering zero waste policies could be replicated in the rest of the UK to help schools, hospitals and government departments save money and carbon.
Dating back to 1966 the Queen's Awards for Enterprise is an awards programme for British businesses and other organizations who excel at international trade, innovation or sustainable development. It is the highest official UK awards for British businesses.
There are four categories of Queen's Awards – three for business success (International Trade, Innovation and Sustainable Development) and one for individual achievement in encouraging UK entrepreneurship The Queen's Award for Enterprise Promotion (QAEP). Companies apply for the Business Awards, but individuals must be nominated for The QAEP.
In a survey of the 2011 Queen's Awards winners over three quarters said it brought prestige to their business and improved staff morale whilst almost half said it gave them an edge in doing business overseas.
Published 31 July 2013