Scrapping regional bureaucracies will save millions
Communities and Local Government Secretary Eric Pickles is to close down a regional bureaucracy which had been costing £16m a year as part of…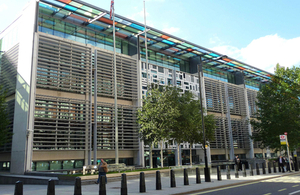 Communities and Local Government Secretary Eric Pickles is to close down a regional bureaucracy which had been costing £16m a year as part of the Coalition Government's review of spending promises made since the New Year. Two other projects are being suspended.
Eric Pickles has put plans in motion to move swiftly to dismantle the funding and powers of regional local authority leaders' boards, which took over most of the functions and staff of the old regional assemblies and are part of the bureaucratic regional structures the Coalition Government is committed to scrapping. The boards are set to become redundant as the complex and confusing regime of regional spatial strategies which wrested powers on transport, housing and planning powers away from local councils are abolished.
The dismantling of these boards will see local authorities put firmly back in control of delivering the services and provision for their area and will ensure local people can hold their leaders to account.
Secretary of State for Communities and Local Government Eric Pickles said:
This is another step in wresting control from the bureaucrats, stopping the top down diktats and axing unelected, ineffective quangos.

This is the nail in the coffin of the unelected, unaccountable and unwanted Regional Assemblies.

We are unravelling this complex system, putting the community back in charge of how their area develops and saving the public purse £16m at the same time.
Regional leaders boards had an overall budget of £16m per annum - by closing them down, at least £6m will be saved this year from their running costs.  The decision will also save local taxpayers money as boards also received funding from local councils of more than £10 million last year.
The Communities Secretary also announced a temporary suspension of two projects until they have been reviewed:
The Homes and Communities Agency (HCA) and Yorkshire Forward have paused any further investment in the Sevenstone Sheffield retail quarter regeneration project pending a review of whether the project could deliver better value for money and a clearer assessment of risks
Further HCA funding of up to £10m towards the Kent Thameside Strategic Transport Programme has been suspended and will be considered as part of the forthcoming Spending Review.
Notes to editors
1. Regional local authority leaders' boards were established under the 2009 LDEDC Act. Under the act responsibility for producing the regional strategy was given jointly to the leaders boards (representing local authorities) and the RDA (representing business interests). Leaders' boards in all 8 regions were established last year and took over most of the functions and staff of the old regional assemblies, in particular the spatial planning functions. Other functions include advising on regional funding allocations and providing a collective forum for authorities to agree on housing, regeneration and transport programmes and strategies.
2. The current leaders' boards are:
East of England Regional Strategy Board
East Midlands Leaders' Board
North East Leaders' Board
4NW - The North West Regional Leaders Board
South East England Partnership Board
South West Strategic Leaders' Board
West Midlands Leaders' Board
Local Government Yorkshire and Humber.
3. Following the abolition of the regional spatial strategies responsibility for strategic planning will lie with local authorities who will decide how they will work together on planning issues that cross administrative boundaries.
4. Sheffield retail quarter - the current investment proposal under review involves £2m from the HCA, £10m from Yorkshire Forward and £10m investment from Sheffield Council. The HCA has previously invested £42m in land assembly at an earlier stage in the project.
5. Kent Thameside strategic transport programme - also known as "Homes and Roads" - consists of 10 transport schemes in the Ebbsfleet and Kent Thameside area, in the boroughs of Dartford and Gravesham. This programme has been in development since 2007, led by a local partnership which includes Kent County Council, Dartford and Gravesham Borough Councils. The total cost of the programme is around £200m over the next 15 years, with funding shared between the public and private sectors. A further HCA contribution of up to £10m will be considered as part of the Spending Review.
Twitter
Keep up to date with the Department by following us on Twitter (external link).
Media enquiries
Visit our newsroom contacts page for media enquiry contact details.
Published 17 June 2010