News story
Scottish small wind turbine sets sail for South Sea Islands
Scottish Secretary Michael Moore helped world class small wind turbine maker Gaia-Wind send off their first turbine to Tonga.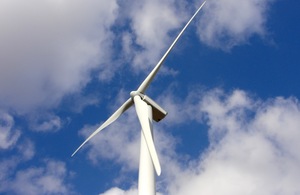 At a distance of 16,109 kilometres, Tonga Power Limited's purchase of the 11kw Gaia-Wind turbine sets the furthest ever distance for an export order for the company.
Gaia-Wind beat off competition from small wind turbine manufacturers in the US and Europe to win the groundbreaking order. The turbine, which is designed to deliver high performance in moderate winds, will also have to withstand the occasional hurricane and other extremes of weather.
Tonga Power's small wind turbine project will be the first of its kind in Tonga. The Gaia-Wind turbine will be in the vanguard of a project which, as Tonga Power says: "Would not only mean a big reduction in Tonga's reliance on expensive imported diesel fuel, it also creates awareness within Tonga Power of the complexities of installing and operating wind turbine generators."
Scottish Secretary Michael Moore helped send off the groundbreaking turbine from Gaia-Wind's worldwide hub in Glasgow. He said:
"Scotland's renewable companies are leading the way in unlocking our green energy potential and using our expertise to export around the world. The Gaia Wind success in the Tongan market shows the UK can compete successfully in the global race. Helping countries around the world make the transition to more carbon-free energy helps both economies and the environment."
John van Brink, Chief Executive of Tonga Power Limited said:
"This is an important step for Tonga Power and for the country. Unlike solar power, wind generation is more complex. It requires understanding of rotating equipment and also an awareness of the temperamental nature of wind. This project will deliver fossil-free power to the grid and most importantly it will be another step forward in meeting our strategic targets for renewable energy delivery."
Gaia-Wind CEO Johnnie Andringa said:
"Following on our success in breaking into the European and US markets, we are thrilled that our UK manufactured turbines have now reached out halfway across the globe. Tonga is a prime example of the kind of market for 'distributed energy' for which the Gaia-Wind turbine is eminently suited."
Notes to Editors:
For further information email martin.paterson@gaia-wind.com
Gaia-Wind Ltd is a manufacturer of world leading high performance Small Wind Turbines, servicing farms, rural properties, businesses, and community projects. The company is headquartered in Glasgow, Scotland with offices in Denmark and Italy and has appointed distributors in France, England, Ireland, and the US.
In 2012 Gaia-Wind was listed as the fastest growing private company in Scotland and the eighth fastest growing in the UK.
Almost 800 Gaia-Wind turbines have been 'in the ground' for a combined operational time of more than 14 million hours. That's over 1,500 years. In Denmark, 77 of our Gaia-Wind turbines have been running for more than 10 years.
For Tonga Power Limited contact Jane Guttenbeil on jguttenbeil@tongapower.to
Published 24 January 2013