News story
Scottish Secretary's message for Ramadan 2013
The Secretary of State for Scotland has sent his best wishes to all Muslim communities in Scotland observing Ramadan.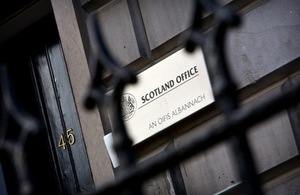 "I send my warmest wishes to all Muslims in Scotland observing the Holy month of Ramadan.
"This is a time when spiritual devotion comes to the forefront and Muslims give up the daily things we all take for granted.
"It is also a time to think of others whether it is those close to home or further afield.
"As well as forgoing food and drink, charitable giving is a crucial part of Ramadan too.
"The UK government is proud of its achievement that this year we will be one of only six countries in the world to meet the UN commitment to devote 0.7% of our gross national income to overseas aid. As part of our aid efforts, we work with many charities including Muslim organisations to help as many people we can around the world.
"I wish all those observing the month of fasting Ramadan Mubarak."
Published 9 July 2013