News story
Scottish Secretary pays tribute to Burns' enduring worldwide appeal
Robert Burns is still an inspiration to new generations more than 250 years after his birth, David Mundell, the Secretary of State for Scotland said today.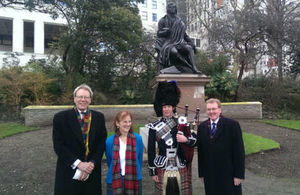 Attending an annual wreath-laying ceremony next to the Robert Burns memorial at Victoria Embankment Gardens in London, the Scottish Secretary said the Bard's work helps share with the world all that is great about Scotland and the UK.
Mr Mundell said:
More than 250 years after his death, the work of Robert Burns still has the ability to move, thrill and inspire us. I am heartened to see how much his legacy is valued and enjoyed, particularly by young people, who come to his work with fresh eyes and ears.

Burns' work tells us a lot about Scotland as a nation – how we see ourselves and how others see us. But his enduring global influence demonstrates that his genius transcends time and place. His legacy is rightly a source of pride for the whole of the United Kingdom.

Burns Night will be celebrated across the globe this week, not just by British troops, embassies, aid workers, and expats of all descriptions, but by people from many countries throughout the world. It shows us that Burns' appeal is as strong as ever.

The scale and breadth of Burns Night events being held to commemorate the poet demonstrate the global nature of his continued appeal.
They include:-
British troops celebrating Burns Night in all corners of the world, including Cyprus, Afghanistan, Iraq and ships deployed to the wider Middle East.

In Malawi, the UK Government's High Commissioner is attending an event organised by local residents.

In Cyprus, the British High Commission is hosting an evening event celebrating Scottish culture and promoting Scottish food and drink.

In Jerusalem, the British Consul General Dr Alastair McPhail is honouring the occasion with a tribute to 'The Immortal Memory'.

Many of the Foreign Office staff around the world, which includes a large number of Scots and many more who love and appreciate Scotland deeply, will be hosting their own personal events to mark the occasion.
Published 25 January 2016