Press release
Scottish Secretary meets Scottish food producers
Scottish Secretary David Mundell met senior figures from Scotland's food production sector in Glasgow,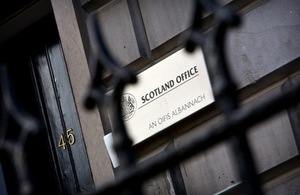 The meeting today [13 October 2016] came as part of the UK Government's work to prepare for the forthcoming negotiations as the UK prepares to leave the EU.
Those at the meeting hosted by the Scottish Food and Drink Federation, shared with Mr Mundell their priorities for the food and drink sector following the EU Referendum vote. During the meeting, the Secretary of State assured them that the UK Government will work in the best interests of the sector, to ensure a bright future for the UK and Scottish economies outside of the EU.
Following the meeting Mr Mundell said:
Scotland's food production industry is important to the Scottish economy. As the UK prepares to leave the EU, we are committed to working closely with the Scottish Government and other partners as 'Team UK', to get the best deal for all parts of the UK in the negotiations to come. Leaving the EU will bring opportunities for Scottish businesses, as we forge new trade deals around the world.
David Thomson, Chief Executive of the Scottish Food and Drink Federation, said:
We valued the chance to discuss the EU exit with the Secretary of State for Scotland. Food and drink manufacturing is vitally important to Scotland's economy, but confidence is low. Food producers are concerned about their employees, access to markets, and the laws which affect their businesses. We share the Government's view that we need to make the best of Brexit. We believe that working closely with the Government will ensure there are credible plans for restoring business confidence and negotiating a workable future relationship with the EU. We all want to continue to ensure Scotland's world-class food and drink remains successful in the years to come.
Published 13 October 2016