News story
Scottish referendum: Quebec results tells us Scottish result must be decisive
Scottish Secretary says politicians must be prepared to accept Scottish independence referendum outcomes.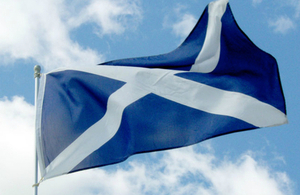 Politicians must accept the outcome of the Scottish independence referendum said Scottish Secretary Alistair Carmichael, pointing to the evidence of yesterday's election result in Quebec.
Mr Carmichael said he believed there were some interesting lessons for Scotland from the recent election campaign in Quebec and confirmed that he would be visiting Canada later this month as the Queen's Baton Relay makes its way through the Commonwealth to Glasgow.
Mr Carmichael said:
I believe there are interesting lessons for Scotland from the Quebec election campaign and result. There is evidence that, by re-heating the independence referendum debate once more, those who would prefer to leave Canada have put off plenty of people in Quebec.

It tells me that when you put a very important question to the people then you must respect the decision the people provide you with.

In September we will ask people in Scotland if they wish to remain part of the UK. That decision will be the biggest decision we ever make as a nation. Whatever the result, we will need to move on as a nation. There will be no going back if we decide to leave. There should be no going back to planning the next referendum effort if we decide to stay. The bigger the decision the people make the more respect it should respect it must be afforded and decisions don't come any bigger than this. 'Neverendum' should never be an option.

On September 19th I want Scotland to move forward together. Let us choose our path and then work together. In the meantime we should keep the debate civil, measured and in the best traditions of our politics.

On my visit later this month, I will be doing my best to ensure Scotland has the best-ever Commonwealth Games and seeking to help Scottish firms do business with Canada in any way I can.
Published 8 April 2014