News story
Scottish referendum: one year to go
Secretary of State for Scotland comments as clock ticks down to Scottish independence referendum.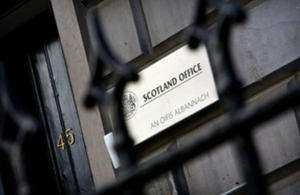 On September 18 next year, people in Scotland will have the opportunity to vote in a referendum to decide whether Scotland should remain as part of the United Kingdom.
With a year to go until the historic poll, Secretary of State for Scotland Michael Moore urged voters to think carefully as they make their choice.
He said:
These are exciting times to live in Scotland. In just a year's time, people the length and breadth of the country will make a choice that will affect our nation's future forever.

This is an absolutely defining moment and a once-in-a-lifetime choice. That's why I hope people will think carefully as they prepare for the vote.

I firmly believe that Scotland will be stronger, more secure and more prosperous if we remain as part of the UK. Between now and next September I will continue to argue this case as well as providing what I believe will be robust and persuasive evidence.

I'm sure the year ahead will be both challenging and exciting as the arguments crystallise and people prepare to cast their vote. It will also be memorable and, above all, historic. We are all privileged to be able to play a part in it.
Published 18 September 2013