News story
Scottish referendum: cities face brighter future as part of UK
Scottish Secretary says being part of the UK helps cities secure future success.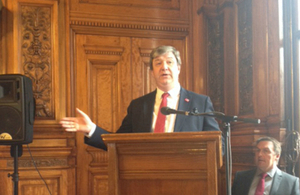 Cities across the country are better placed to secure future success as part of a UK which allows them to co-operate and solve common challenges, the Secretary of State for Scotland said today.
Speaking after attending a meeting of the Core Cities Group in Glasgow, which includes the leaders of eight major English urban councils, Mr Carmichael said:
The UK Government believes cities have an absolutely vital role to play in driving forward growth and living standards in our economy and we want to empower them to fulfil that role.

I agree with the Core Cities Group view that the best way to help economic growth is to work together and learn from one another to our mutual benefit, no matter which part of the country you are from.

That positive future and our shared ambitions are not served by erecting the barriers, borders and burdens within our country which would be put in place by independence.

Our cities face common challenges, from connectivity to economic development, and there is far more which unites us than divides us. Using a secure, common currency in the UK pound is a prime example of a benefit which would be lost on leaving the UK.
The Minister added the UK Government was working to deliver City Deals across the country. These are agreements between government and a city that give the city the powers to take charge and responsibility of decisions that affect their area, do what they think is best to help businesses grow, create economic growth, and decide how public money should be spent. Each deal is bespoke and reflects the different needs of individual places.
These have been concluded with the 8 Core Cities:
Birmingham
Bristol
Leeds
Liverpool
Manchester
Newcastle
Nottingham
Sheffield
Mr Carmichael said:
UK Government policy is working for our urban centres.

I am delighted the UK Government are working closely with leaders from Glasgow and the Clyde Valley to support Glasgow's vision for a City Deal that would help make Glasgow one of the fastest growing city regions in the UK.

We made clear in the autumn statement that we are committed to delivering an ambitious City Deal for Glasgow that supports the on-going revitalisation of Glasgow, ensuring that the city continues to be an economic success story for the Scottish people, Scotland and the United Kingdom.

The wider Glasgow city region is home to around a third of all the people in Scotland. The city itself is home to 5 universities and 7 colleges, delivering learning to over 133,000 students from 135 countries. It has strengths in engineering, design, manufacturing, financial services, low carbon industries and life sciences.

So it makes perfect sense to do whatever we can to enable cities such as Glasgow to harness all of that potential and unlock local growth.
Published 8 May 2014