News story
Scottish referendum: 300 days to go
Scottish Secretary urges voters to make informed choice about Scotland's future.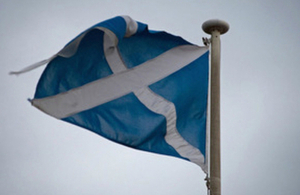 With 300 days to go until the Scottish independence referendum, Scottish Secretary Alistair Carmichael has urged voters to make sure they've got all the facts they need to make an informed choice at next year's Scottish referendum.
Commenting on the milestone, he said:
There's now less than a year to go until voters in Scotland make what will be one of the most important decisions of their lives.

Nobody should be under any illusions about the importance of this vote. If Scotland decides to go it alone then this will be an irreversible decision so it's certainly not something to undertake lightly.

With time fast running out, it's important that people make sure they're up to speed and have all the facts they need. That's why I'm determined to ensure that as much information as possible is readily available.
Published 22 November 2013