News story
Scottish quarterly GDP figures show continued growth
Latest figures show Scotland's economy grew 0.3% in the final quarter of 2017, but growth remains slower than the UK as a whole.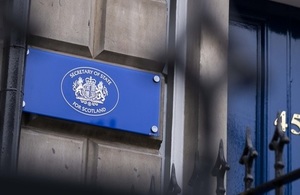 Commenting on the Scottish GDP figures published Wednesday 4 April 2018, Scottish Secretary David Mundell said:
It is good news that today's GDP figures show that Scotland's economy continues to grow. I note a modest improvement in Scotland's important services sector, and encouraging growth in production industries.

However, it is increasingly concerning that a significant gap persists between Scotland's economy and the rest of the UK. The Scottish Government has the powers to boost productivity and strengthen the economy, and must use them to close this gap. By making Scotland the highest taxed part of the UK, the Scottish Government risks damaging, rather than growing, our economy.
Scotland's Gross Domestic Product (GDP) grew by 0.3% in real terms during the fourth quarter of 2017, following growth of 0.2% in the third quarter of 2017. The equivalent growth rate for the UK as whole during the third quarter was 0.4%.
In the latest quarter, output in the Scottish Services sector grew by 0.5%, output in the Production sector grew by 0.9%, and output in the Construction sector fell by 2.6%.
Compared to the same quarter last year, Scottish GDP has grown by 1.1%. Equivalent UK growth over the year was 1.4%.
In 2017, annual GDP increased by 0.8% compared to 2016, following growth of 0.2% between 2015 and 2016. The equivalent UK growth rate for 2017 was 1.8%.
The full Scottish Government statistical bulletin is available for download.
Published 5 April 2018