Press release
Scottish Fashion celebrated in style
Today [21 October] at the Scottish Fashion Awards, Scottish Secretary David Mundell will present the award for Scottish Young Designer of the Year.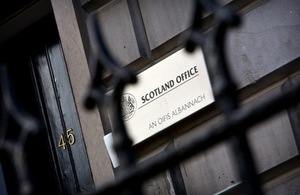 Wearing accessories by one of the nominees, Highlands-founded brand Walker Slater, Mr Mundell will speak about the huge influence that Scottish designers and industry figures have across the UK and the world, saying:
I'm delighted to co-host the 11th Anniversary Scottish Fashion Awards this year with Dr Tessa Hartmann. It is incredible to consider the amount of impressive Scottish talent these awards have showcased over the last eleven years, and indeed the high calibre of incredible nominees and winners we have seen already this evening.

Fashion is of huge importance to our country, contributing £28bn to the UK economy and supporting nearly 900,000 jobs. The fashion industry is a global leader in trade, creativity and innovation, and the value of the UK's textiles and apparel exports is well over £7bn.

These awards illustrate that Scotland punches above its weight in the global fashion marketplace and that's something that I am delighted to be a part of. So I'm honoured to introduce one of the most exciting awards of the night – that of emerging talent.
Dr Tessa Hartmann, Mr Mundell's co-host, established the awards to showcase Scottish talent in fashion, innovation and textile design. The event aims to showcase a huge range of Scottish talent and provide an international stage for fashion's future leaders.
Published 21 October 2016