News story
Scottish economy continues to strengthen
Economic report shows Scottish economy is expected to continue to grow into 2015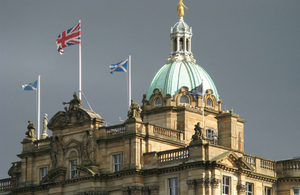 Responding to the latest publication of the Bank of Scotland's Business Monitor the Scottish Secretary Alistair Carmichael said:
Today's Bank of Scotland's Business Monitor shows that the Scottish economy continues to grow and business expectations for the months ahead continue to rise. It is also good to see export expectations have grown to near record survey highs.
Since 2010 the UK Government has had to take many difficult but necessary decisions to help our country recover. As a result the deficit is down, more Scots are in work than ever before and the UK's economy is growing faster than any other G7 country this year. This shows our long term economic plan is working.
Published 30 September 2014