World news story
Scottish Development International Trade Mission to visit Ghana
Scottish companies in the oil & gas sector will be visiting Ghana from 19 to 23 June, 2017.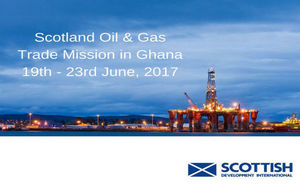 This visit provides an opportunity for Scottish businesses to access the local market conditions, and to look to potential local partners interested in enhancing their own offer by linking up with Scottish companies.
Leading the trade mission to Ghana is Andrew Monaghan, Scottish International Trade Advisor for West Africa at Scottish Development International – Scotland, UK.
Andrew Monaghan said:
I am delighted to be bringing such a large trade delegation from Scotland, all of whom are interested in helping to develop and build the Ghanaian oil and gas industry for the benefit of its citizens. Sub sectors represented include education and training; sub sea engineering; winches; electrical product distribution; well construction and engineering services; and remote communications systems. Awareness of the need to address local content and local participation issues is high and will also be discussed during roundtables.

The Scottish Oil & Gas industry has faced challenges since the drop in oil prices, however, it has responded impressively through a combination of innovation, lowered costs and by engaging with new markets in West Africa. With the cost in the North Sea now averaging $15 per barrel, Scotland holds the position of the most competitive Oil & Gas industries in the world, it is our hope to share our success here in Ghana and across West Africa.
Currently Ghana benefits from Scottish companies operating in Ghana and there is scope to develop partnerships and for the transfer of the technologies, educational capabilities and skills that have been built up over the 50 years of operating in the North Sea.
Scotland is a true Global Hub for Oil and Gas and associated education and training. The Oil and Gas cluster makes a huge contribution to the Scottish economy with Scotland having creative and innovative companies operating in over 100 countries worldwide.
For companies or individuals interested in finding out more about the composition of the delegation please get in touch with: Selma.Baba@scotent.co.uk, Officer at the SDI office, British High Commission, Accra.
Further information
####Scottish Development International (SDI) Scottish Development International (SDI) is the international economic development arm of government in Scotland and provides a broad range of services to support companies and institutions to help them develop their overseas business. SDI also helps overseas businesses tap into Scotland's key strengths in innovation, knowledge, high levels skills and technology.
Operating in 29 countries around the world, SDI opened its first office in Africa in the British High Commission in Accra in June 2014. Whilst regional in its geographic focus, sectorally the focus of activity in Africa is primarily oil & gas and education & training related to oil & gas.
The delegation comprises the following 19 companies:
ACE Winches
Aquatic Subsea
Bowalds Energy UK Ltd
Corex (UK) Ltd
Exceed
Flexlife Ltd
Grant Thornton UK LLP
Hydrasun Group Ltd
ION Geophysical
Katoni Engineering
Oil States Industries (UK) Ltd
Online Valves Ltd
Pdi (Project Development International)
PFC Ltd
Peprime Limited
Rigmar
Stork Ltd
University of West Scotland
LUX Assure
Published 15 June 2017