News story
Scottish businesses urged to get ready for National Living Wage
Two weeks before the new UK National Living Wage comes into force, Scotland Office Minister Andrew Dunlop has urged Scotland's top business influencers to help spread the word among the Scottish business community.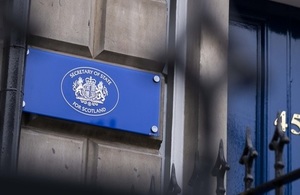 Hundreds of thousands of Scottish workers are set to benefit from the increase on 1 April, which will see the current minimum hourly rate increase to £7.20 from £6.70 for workers aged 25 and over. Many full time workers will see their pay rise by around £900 a year.
Since the beginning of the year, the UK Government has been running an information campaign in Scotland to raise awareness of the changes with both employers and employees. That has included billboards, television and radio advertisements across the country. But there may still be businesses which are unaware of the new legal requirement.
Scotland Office Minister Andrew Dunlop said:
The UK Government's National Living Wage is key to our commitment to generate a higher wage, lower tax, lower welfare economy. As a result of the new National Living Wage, hundreds of thousands of workers in Scotland will get a much-needed pay rise.

It is crucial that employers in Scotland are aware of the change and understand what they need to do. We are running an information campaign across the country, but are also calling on the business community to help spread the word.

I have written today to some of Scotland's top business organisations, asking them to join us in spreading the word about the National Living Wage.
Bar Soba Group, which runs a group of bars and restaurants in Scotland and across the UK, announced in January 2016 that they would adopt the National Living Wage early. Brad Stevens, Managing Director of Bar Soba Group said:
We took the decision for Bar Soba Group to adopt the UK National Living Wage early so we can lead from the front. In the bar and restaurant industry, our employees are one of our biggest assets. By giving them a bit more money in their pockets, we ensure they feel they are a valued part of the business. We are a fast growing business, but to grow at the speed we want to we need our employees to be invested in the business, and hopefully attract some new employees as well.
HR Services Scotland is a professional services firm, based in Hamilton, offering companies advice and support in the areas of human resources, employment law, business development and health and safety. Andy Purdon, Managing Director of HR Services Scotland said:
It's hugely important that businesses are aware of their new legal requirements under the UK National Living Wage. At HR Services Scotland, we work with businesses around Scotland to help them prepare for changes in the law such as this. The key is preparation. The earlier businesses begin to prepare for the National Living Wage, the easier making the transition will be. Many businesses see the benefits of paying a higher wage to their staff, but it's important to be ready.
With only two weeks until the National Living Wage becomes law, it is crucial that as many employers and employees as possible understand the changes. Businesses need to ensure that they are compliant as of 1 April, and employees need to know whether they are eligible and where they can go they have not received the pay rise they are entitled to.
Published 19 March 2016