News story
Scottish businesses uged to follow Standard Life's lead
Scottish Secretary praises Edinburgh employer for providing opportunities for young people.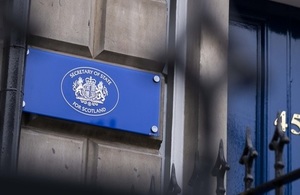 The efforts of a major Edinburgh employer to provide opportunities for young people were praised today by Scottish Secretary Alistair Carmichael.
Visiting the Edinburgh headquarters of global financial services company Standard Life today to meet some of the young people who have benefited from their employability project, Mr Carmichael also praised the firm for their support for the UK's Armed Forces community.
In support of Edinburgh City Council's drive to help youth employment, the company will create almost 60 paid placements - each lasting six months - across the company by the end of the year.
Mr Carmichael said:
Standard Life is to be congratulated for its work providing opportunities for our young people. Helping business to create jobs for young people is an area where all levels of government in Scotland must look at ways of working together in our common interest.
Armed forces
The Secretary of State also used his visit to pay tribute to Standard Life for taking the lead amongst Scottish businesses by committing to the Armed Forces Corporate Covenant. Standard Life, along with Dundee based Idrach, are the first Scottish companies to sign up to the pledge emphasising that the covenant can cover both large and small companies.
Both were recognised during a reception hosted by the Prime Minister at Downing Street on Tuesday.
In a letter addressed to a number of businesses across Scotland, the Scottish Secretary urged more to follow their lead and show their support for the UK's Armed Forces by signing to the Corporate Covenant
Mr Carmichael added:
I warmly congratulate Standard Life and Idrach in showing their support for our Armed Forces Corporate Covenant.

I know Scotland is immensely proud of the huge sacrifices servicemen and women and their families make on our behalf. That is why I have written to a number of businesses across Scotland asking them to follow Standard Life and Idrach's lead and send a clear signal of Scotland's support to our Armed Forces Community by getting behind the Corporate Covenant.
Sandy Begbie, Group Operations Officer at Standard Life, said:
Standard Life's commitment to tackling youth employment and our support for armed forces personnel are driven by our recognition of the challenges of gaining a foothold in the workplace. The initiatives we have put in place are intended to help individuals overcome the barriers to employment and help them fulfil their true potential.

Our experience of bringing young people into our organisation through Edinburgh Guarantee and other channels has been extremely positive. Not only has it helped the individuals to gain valuable experience and develop new skills – in many cases leading to permanent roles or extended paid placements – their enthusiasm and fresh thinking has benefited Standard Life and the way we work. We believe service personnel can also make their own distinct contribution – hence we are delighted to support the Armed Forces Corporate Covenant, building on the commitments we have already made to support Armed Forces personnel in our workplace.
Published 31 October 2013