News story
Scotland's manufactured exports grow
New figures show that Scotland's manufactured export sales to overseas markets grew by 3% during the first quarter of 2014.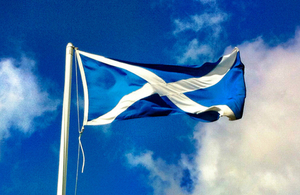 Welcoming the publication of the figures today the Scottish Secretary Alistair Carmichael said:
On the back of record employment and seven consecutive quarters of Scottish economic growth, it is encouraging to see Scotland's international export sales have increased during the first quarter of 2014.

This week has seen the UK solidify its place as the number one destination in Europe for foreign direct investment projects and we are determined to help our businesses grow, export and ultimately create more jobs.

With Glasgow taking centre stage for the next two weeks to host the 2014 Commonwealth Games a number of events are taking place to provide a platform for our businesses helping to give them the edge over our global competition. Together with support from the UK Government, UKTI, SDI, Scottish Enterprise amongst many others, I am confident this will go a long way towards creating many more Scottish exporting success stories.
Published 23 July 2014