News story
Scotland's budding entrepreneurs to benefit from extra support
The Secretary of State for Scotland Michael Moore has welcomed the extension of a scheme designed to help unemployed people across Scotland.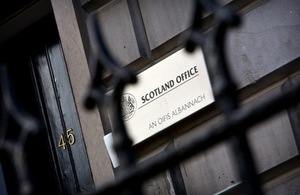 Since it was introduced in 2011, the New Enterprise Allowance (NEA) has offered expert mentoring and financial support to jobseekers who want to start up their own business, helping people who have previously been on benefits turn their business ideas into successful enterprises. The scheme has already helped to create more than 1,800 new businesses in Scotland.
Speaking ahead of a Downing Street reception to celebrate British businesses who have benefited from NEA, the Prime Minister announced today that the NEA will be extended for new starters up until the end of 2014, providing an additional 60,000 mentoring places for claimants across the UK.
The Secretary of State said:
Today's announcement by the Prime Minister is great news for budding entrepreneurs across Scotland. The New Enterprise Allowance has already delivered significant benefits for Scotland with over 1,800 new businesses being created across the country over the past two years.

Today's news that this innovative scheme has been extended will provide many more opportunities for business ideas to develop from the drawing board into our communities.
NOTE TO EDITORS
The New Enterprise Allowance (NEA), launched in April 2011, aims to help unemployed people who want to start their own business. NEA is available to Jobseeker's Allowance (JSA) claimants aged 18 and over.

Participants receive access to a volunteer business mentor who will provide them with guidance and support as they develop their business plan and through the first six months of trading. Once participants have demonstrated they have a viable business proposition with the potential for growth in the future, they are able to access financial support. This consists of:

A weekly allowance worth £1,274 over 26 weeks, paid at £65 a week for the first 13 weeks and £33 a week for a further 13 weeks, and if they need start-up capital, they may also be able to access a loan up to £1,000 to help with their start-up costs.

The total package of support is worth up to £2,274 to each participant who starts their own business.

You can also view a local breakdown of NEA stats
Published 12 September 2013