News story
Scotland set for double inflation boost for State Pension
Triple lock policy will see pensions increase.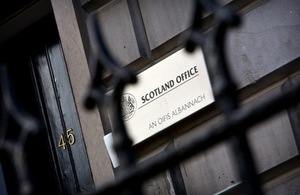 The basic State Pension is to rise by around double the rate of inflation, the UK government has confirmed, helping to give people increased financial security and peace of mind in retirement.
Thanks to the Coalition's 'Triple Lock' policy, all pensioners are to see a 2.5% increase from April next year. This will take the weekly payment up to £115.95, an increase of £2.85 per week.
This measure will help pensioners on lower incomes by pushing the guarantee up to £151.20 for single people from April 2015.
Scottish Secretary Alistair Carmichael said:
This Government's introduction of the Triple Lock marked a profound shift in the way we support pensioners here in Scotland and across the wider UK. This ensured Scots have a secure income when they retire, an essential part of making sure we can build a fairer society.

Being part of the UK and the larger tax base, spreads the risk and provides greater certainty, security and a crucial safety net to help Scotland's pensioners. With an ageing population in our country we have challenges to meet in the decades ahead, those challenges are best met as part of the UK.
Pensions Minister Steve Webb said:
The Triple Lock is one of the defining policies of this government – a policy which rewards those who have worked hard and saved hard throughout their lives.

Thanks to the Triple Lock, in this Parliament the basic State Pension will be £560 per year more than if it had been just uprated by earnings. It's also the reason why the basic State Pension is now at its highest relative to average earnings that at any time since 1992.

With inflation remaining low by historic standards and the rise in average earnings at around 0.6%, under previous arrangements the basic State Pension may only have gone up by around 70p per week this year – the kind of insulting treatment of pensioners which we won't allow to happen.
The Coalition's 'Triple Lock' policy commits the government to an annual rise to the basic State Pension of whichever is highest out of the rise in inflation, the rise in average earnings, or 2.5%.
In line with the rise to the basic State Pension under the current system, the government has increased the illustrative start rate of the new State Pension which will be introduced from April 2016. This has also been increased by £2.85 to £151.25, in line with the government's policy that it will be set above the standard minimum guarantee. The actual start rate will be finalised in autumn 2015.
The cost of the measure to raise the standard minimum guarantee for Pension Credit will be offset by an increase in the Savings Credit threshold of 5.1%.
Published 4 December 2014