Scotland marks Remembrance Sunday
Scottish Secretary attends remembrance service in Edinburgh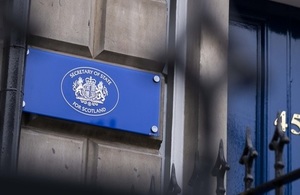 Scottish Secretary Alistair Carmichael laid a wreath at the Stone of Remembrance in Edinburgh today, paying his respects to servicemen and women past and present
Mr Carmichael also delivered a reading at a service hosted by Royal British Legion of Scotland at St Giles Cathedral.
He said:
As Secretary of State for Scotland it was an honour to pay my respects and lay a wreath in memory of all those who have made the ultimate sacrifice in the service of their country.

This year marks sixty years since Scottish soldiers, sailors and airmen stood together with our allies amongst the thousands of troops who served in Korea. Next year will see Glasgow at the centre of Commonwealth events to mark the centenary of the start of the First World War.

For those who have served and fallen in the line of duty in the past and for those who continue to serve our country with distinction, today acknowledges their bravery and dedication and emphasises that we will never forget.
The Moderator of the General Assembly of the Church of Scotland the Right Reverend Lorna Hood said:
At this time of year among fallen leaves and falling poppies, we can stop and remember those who did not return from war and conflict, their lives lost at sea, on land and in the air. We can remember those who suffer still, damaged in body, mind or spirit.

As we pay respects to those whose sacrifice took place long ago, may we also remember those in danger right now in so many parts of the world.

May we be channels of peace in small scale relationships and encouragers of peace on the wider stage. May we all play our part in striving towards a world without war, built on mutual trust and care, mercy and justice.
Published 10 November 2013