News story
Scotland benefits from Autumn Statement
Scottish Secretary Alistair Carmichael comments on the Chancellor's Autumn Statement.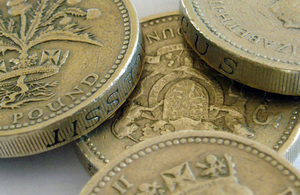 The Scottish Government will benefit from additional funding of £213 million through to 2015-16 as a result of spending decisions taken by the UK Government at this Autumn Statement.
This brings the total amount of additional spending power granted to the Scottish Government since 2010 to over £2.3 billion.
Scottish Secretary Alistair Carmichael said:
This Autumn Statement sets out the next steps in the UK Government's long term economic plan to secure a sustained recovery and a more resilient economy. By backing businesses, helping more people into work and supporting families in communities across the country Scotland is benefitting from the action we are taking to help our economy grow.

These measures will give the Scottish Government an extra £213 million of spending, taking the total of additional spending power to over £2.3 billion since we came to office. This means they can crack on and spend more money such as on funding for the NHS, more childcare places or more funding for schools or colleges.

Scotland chose to retain a shared currency, pensions, single market and the economic stability and security that comes from being part of the UK. With more funding provided to the Scottish Government today and more powers and great responsibility for the Scottish Parliament on the way, Scotland is strengthened by today's Autumn Statement.
Other key points in today's statement include:
The personal allowance will be increased by £600 to £10,600 in 2015-16. This will lift 38,000 people in Scotland out of income tax altogether and 2.13 million Scottish people will see an average real terms gain of £94.

68,000 Scottish employers have benefitted from the Employment Allowance in the first 6 months - a take-up rate of 72%.

Changes to air passenger duty will see a Scottish family with 2 children save £26 on short haul flights and £142 on long haul.

Fuel duty frozen.
Published 3 December 2014