News story
Scotch Whisky export growth drives investment in Scotland
UK Government is delivering for Scotch Whisky industry.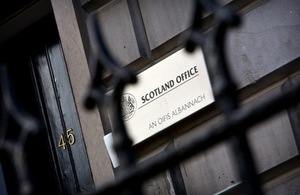 The benefits of the UK's diplomatic network, free trade agreements and the protection of Scotch Whisky as a Geographical Indication can be felt in local communities across Scotland, the Secretary of State for Scotland said today as he visited one of Scotland's oldest distilleries.
Founded in 1838, Glen Ord distillery produces a highly regarded malt whisky. It is also a popular tourist attraction and its visitor centre welcomed almost 20,000 guests last year.
Business Secretary Vince Cable signed a Geographical Indication agreement with the Chinese authorities in November 2010, ensuring that they recognised Scotch whisky as a product produced in Scotland. At the time, industry experts estimated it would increase sales by tens of millions of pounds a year.
This is underlined by the most recent figures for the Singleton of Glen Ord whisky, whose net sales grew by 37% in Greater China over the past year.
Mr Carmichael said:
The rise in sales reflect the outstanding qualities of what is fast becoming an iconic brand in China. These figures also reflect the hard work the UK Government undertook to secure protected status in this key market for one of Scotland's most valued exports.

Free trade agreements, like the one recently agreed between the EU and Canada, are also important for Scotch whisky's continued growth. The UK Government is able to use its clout and influence as a major EU Member State to ensure that such agreements deliver increased export opportunities.

While we are working hard globally, it is crucial to see these benefits in a local context. This outstanding visitor centre here at Glen Ord is a magnet for drawing in tourists which brings major benefits for Ross-shire's economy.
David Cutter, Supply Director, Diageo International Supply Centre, said:
We are delighted to be able to show the Secretary of State for Scotland the investment we are making to expand Glen Ord distillery.

Glen Ord is a key distillery for Diageo and our people there produce the highest quality spirit for The Singleton single malt whisky brand and also for our world-leading blended Scotch whisky brands, such as Johnnie Walker.

We are growing sales of these brands around the world and that is driving our investment programme here in Scotland. The Glen Ord expansion is part of the £1billion we are investing in Scotland over a five year period to increase our Scotch Whisky production capacity to meet the growing demand for our brands around the world.
Diageo employs around 4,000 people at 50 sites across Scotland. Last year they announced plans to invest £1bn over five years. As a result of the investment the capacity of the Glen Ord distillery will be doubled.
Published 13 November 2013