World news story
Scientific conference for Magna Carta anniversary in Macedonia
Ambassador Charles Garrett highlights importance of Magna Carta for global democratic trends at a conference in Macedonia.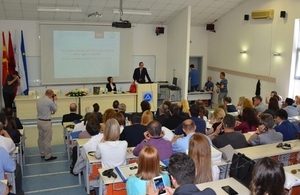 The importance of rule of law, good governance and established principles of democratic traditions in societies were among the main topics at the scientific conference organised in Macedonia to mark 800 anniversary of Magna Carta. The international scientific conference was organised by the South East European University in Tetovo on 17 June, gathering professors in law, legal experts, judiciary, and youth researchers to debate for the legacy of Magna Carta and how the region of Western Balkans can use it to benefit its democratic development.
Our ambassador, along with the US Ambassador to Macedonia, were the opening speakers at the conference. In his speech our ambassador Charles Garrett said:
Magna Carta is not only a document; it is an encapsulation of many of the values of civilization. That no person can be denied the right to liberty; that each person is entitled to fair trial; that the rule of law must be upheld rigorously; that no one is above the law, no ruler or government. And that is the enduring value of Magna Carta 800 years on, in a world where many governments practice unrestricted power, where states curtail individual rights, where individuals face arbitrary detention, torture, and state-sponsored harassment of those who disagree with the government of the day. And that is why debates about Magna Carta are always popular: whenever governments and rulers behave like that, there is always a demand for debate about respect of human rights, accountability, transparency, free expression, democracy and dialogue. And this is not simply about noble concepts. Conflict thrives where human rights abuses go unchecked, often with devastating consequences for communities and nations. And prosperity and stability thrive where democratic freedoms, good governance and the rule of law are upheld.
The Magna Carta scientific conference is organised by the South East Europe University in Tetovo under the title 'The legacy of Magna Carta 1215 for the Western Balkans'. To find out more about the conference you can visit the dedicated website for the Magna Carta Scientific Conference.
Connect with us on Facebook or follow us @ukinmacedonia
Connect with the British Ambassador on Facebook or @BritAmbCGarrett
Published 17 June 2015