Science Vale UK named as 'Enterprise Zone'
More than 8,000 new jobs are heading for Oxfordshire's Science Vale UK area after the government named it as 1 of 10 new 'Enterprise Zones'.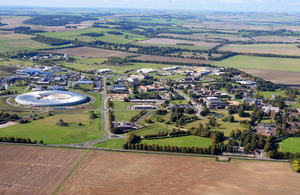 Science Vale UK is a joint initiative between leading hi-tech and research organisations in south Oxfordshire, and the County and District Councils, to promote the region. The UK Atomic Energy Authority (Authority) is one of the partners in Science Vale UK, and Authority CEO Professor Steve Cowley is Chair of Science Vale UK. In addition, Harwell Oxford, one of the business parks included in the zone, is being developed as part of a joint venture between the Authority, the Science & Technology Facilities Council and Goodman International.
The successful bid made by the Oxfordshire Local Enterprise Partnership (LEP) envisages 200,000 square metres of development delivered by the private sector by 2015. This is expected to bring in around 8,400 high-tech, high-value-adding jobs and generate up to £10.5 million of additional business rates a year. These funds can be directly reinvested into the Oxfordshire economy.
The zone will consist of land at 2 of the UK's biggest science and research business parks - Harwell Oxford and Milton Park - with the single ambition of being globally competitive to the benefit of Oxfordshire and the UK.
New businesses will benefit from over £1 billion of business rate discounts over 5 years, simplified planning procedures and access to super-fast broadband.
Dr Sally Ann Forsyth, from Goodman said:
This is just the boost that Science Vale UK needs to continue its legacy as one of the world's leading locations for research and the commercialisation of science. It's the perfect place to be for space research, bio-technology, cryogenics and advanced manufacturing.
Key business leaders will work with Science Vale UK Chair Professor Cowley, Government, Oxfordshire County Council and the Vale of the White Horse District Council to make the development a reality.
For more information see the Science Vale UK website.