Save the date! UK Space Agency to host Business Support Showcase event
UK space sector will convene in Edinburgh to learn about opportunities for growth as we build back better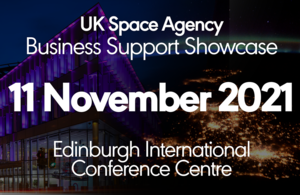 The Business Support Showcase, taking place on Thursday 11 November 2021, is a perfect opportunity for the UK space sector to come together to learn more about clusters of space innovation around the UK and identify local potential to grow the space economy.
The event is expected to be one of the first in-person space events following the COVID-19 pandemic, and will be held at the Edinburgh International Conference Centre.
Head of Local Growth Strategy at the UK Space Agency, Colin Baldwin said:
The UK Space Agency is excited to be able to bring the UK space sector back together in person again to continue building connections across the UK space ecosystem.

It's a fantastic opportunity to showcase the brilliant networks, support and opportunities available across UK space, and we look forward to welcoming colleagues from every part of the UK.
Keynote speakers, panel sessions and networking opportunities throughout the day will cover topics including:
connecting the UK space ecosystem
space cluster development
space business acceleration
space regulation
There will also be a chance to see some of Scotland's most exciting and innovative space companies across Earth Observation, artificial intelligence and geoscience.
All plans for the event will be developed in line with government guidance on the pandemic situation. Look out for further updates soon.
Published 14 June 2021