World news story
Sajid Javid launches the 2016 Chevening Rolls-Royce Science and Innovation Leadership Fellowship
Application window now open until 19 October 2015.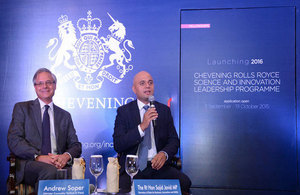 The Rt Hon Sajid Javid MP, the United Kingdom's Secretary of State for Business, Innovation and Skills launched the application window for the 2016 Chevening Rolls-Royce Science and Innovation Leadership Fellowship on 11 September 2015.
In a gala event on the side lines of the annual 'India -UK Business Convention 2015, the Secretary of State announced the programme aimed at mid-career professionals in the fields of science, innovation and business from India and Sri Lanka. The fellowship is jointly funded by the UK Foreign and Commonwealth Office and Rolls-Royce. Present at the launch were Chevening alumni, researchers, scientists and senior corporate professionals.
The fellowship offers 14 (12 from India and 2 from Sri Lanka) senior science and innovation professionals with links to public policy, an 11-week (13 April to 24 June 2016) study programme at the University of Oxford's Said Business School. Each fellowship includes:
full programme fees
living expenses for the duration of the Fellowship
return economy flight from India or Sri Lanka to the UK
Speaking at the function Sajid Javid said:
Chevening scholarship in India is now the largest in the world. We are offering over 130 fully-funded, scholarships and fellowships. I am delighted to announce the next stage of this relationship – the 2016 Chevening Rolls-Royce Science and Innovation Leadership Fellowship in program (CRISP). The programme is about building collaborations between Britain and India. It is open to Indians leading in business, science and innovation. During the 11 weeks in the UK, those selected will work with the best British academicians and practitioners. You can exchange ideas, refresh your skills, build networks and you can then return to India filled with energy and ideas which will enable you to deal with challenges that we all face in our respective countries
Kishore Jayaraman, President, India & South Asia, Rolls-Royce said:
As India continues to make great strides towards achieving its socio-economic aspirations, we must continue to nurture our future generations. The CRISP is an excellent way to identify and develop future leaders who are at their mid-career and help them broaden their global outlook to power India's socio-economic transformation. At Rolls-Royce, we want to go beyond philanthropy to find innovative ways to properly link industry with scientific and technical excellence for the long-term, and for the benefit of us all.
Further Information:
Stuart Adam, Head,
Press and Communications
British High Commission, Chanakyapuri
New Delhi 110021
Tel: 44192100; Fax: 24192411

Mail to: Sakthy Edamaruku
Follow us on Twitter, Facebook, Instagram, Flickr, Storify, Eventbrite, Blogs, Foursquare, Youtube, Vine, Periscope @UKinIndia, Snapchat @UKinIndia
Document information
Published: 15 September 2015