Press release
Safer journeys from A590 overnight repairs
Drivers using the A590 in Cumbria are advised a series of wear and tear projects providing safer journeys will start on Monday (1 September).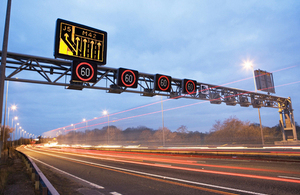 The Highways Agency is spending £115,000 to renew road markings and install new road studs along three sections of the route over the next few weeks.
All the work will be delivered overnight between 8pm and 6am and should be completed by Friday 20 September – with a fourth project possibly starting at the end of the month.
Highways Agency project sponsor Peter Gee said:
This is routine work to tackle wear and tear and will give road users safer journeys through this part of Cumbria. We appreciate road works can sometimes inconvenience drivers so we will be doing all this along short sections of the route at a time when the A590 is at its quietest to minimise disruption to people's journeys.
Work will be taking place on both the eastbound and westbound carriageways at the following locations:
Between Park Roundabout and Booths Roundabout in Ulverston from Monday 1 September to Monday 8 September
Isolated small sections of carriageway between Arrad Foot and the Low Newton Bypass from Monday 8 September to Saturday 13 September
Various locations between Meathop Roundabout and Brettargh Holt Roundabout from Monday 15 September to Saturday 20 September
A similar, additional, project may also be taking place between Brettargh Holt Roundabout at the junction with the M6 at junction 36. This work is yet to be confirmed but is scheduled between Monday 22 September and Friday 3 October.
Traffic management for the work involves a mixture of temporary traffic lights, lane closures and convoy working with drivers held at traffic lights and led past the road works by a contractor's vehicle at 10mph.
General enquiries
Members of the public should contact the Highways Agency Information Line on 0300 123 5000.
Media enquiries
Journalists should contact the Highways Agency press office on 0844 693 1448 and use the menu to speak to the most appropriate press officer.
Published 28 August 2014