World news story
Rugby activities to benefit hundreds of children in Venezuela
The Embassy and its local partners are organising the GREAT Rugby Festival and the "Try Rugby" Tour in Venezuela.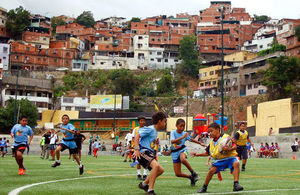 As part of the celebration of the Rugby World Cup 2015 (RWC2015) in the UK, the British Embassy is organising a series of sports events in Venezuela in the month of October.
These activities will highlight the core values of Respect for teammates and opponents; Integrity through fair play and honesty; and Solidarity built on teamwork. All values are enshrined in rugby and shared by the UK and Venezuela.
Working closely with the Venezuelan Rugby Federation, the Embassy has organised the GREAT Rugby Festival, to take place on 3 October at Hacienda Santa Teresa. Children between the ages of 4-14 will participate in a rugby tournament and in sessions dedicated to reinforcing the sport's core values.
The Embassy and the British Council have also partnered with the Federation to deliver a "Try Rugby" Tour in Venezuela between 5-9 October. Two coaches from the Premiership Rugby League will come to Venezuela to hold rugby clinics in three key regions: Zulia, Lara and the Caracas Metropolitan Area.
With these activities, the British Embassy is supporting local Venezuelan organisations in promoting positive social values in young people, while strengthening friendship and cooperation ties with Venezuela.
In addition, RWC2015 is another excellent example of UK expertise and innovation in organising cultural and sports events. Importantly, this is underpinned by working together with local organisations.
See more information and images on our social media channels:
Published 28 September 2015