News story
Royal Society for the Prevention of Accidents (RoSPA) recognises safety performance
LLW Repository Ltd (LLWR) rewarded for a 13th consecutive year in prestigious RoSPA awards.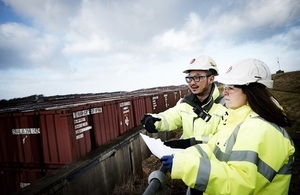 LLWR's exceptional health and safety performance has again been recognised in the annual RoSPA awards.
The organisation has earned its fourth President's Award in recognition of securing a 13th consecutive Gold Award for its performance in 2017.
Elaine Burrage, LLWR's Safety Manager, said: "We are thrilled to receive recognition for our safety performance and acknowledge all the hard work everyone in the organisation has put into us earning it."
Awards are based on an organisation's individual occupational health and safety performance assessed against specific criteria.
Entrants must provide evidence of a good health and safety management system by answering key performance questions and submit accident, ill health and enforcement data.
Winners receive a framed certificate and are entitled to use the award logo on their organisation's letterhead and website and to fly the RoSPA Awards flag.
Published 1 August 2018