World news story
Rolls-Royce Wraith makes Russia debut
British Ambassador Tim Barrow hosted a media launch event for the very latest Rolls-Royce model at his Moscow Residence.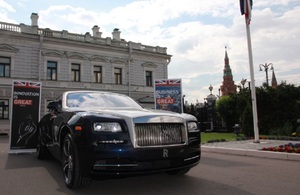 Rolls Royce is one of the oldest British automotive manufacturers. Two years ago one hundred Rolls-Royce motor cars took to the streets of London to mark the centenary of the world's most famous hood mascot, the Spirit of Ecstasy, which was first fitted to Rolls-Royce models in 1911.
Many of us are familiar with Rolls Royce models such as the Phantom and Ghost, produced at the company's 21st Century home in Goodwood in the UK, which enjoy great popularity among Russians.
The World launch of Rolls Royce's new model, the Wraith took place in Geneva this March. Its UK debut was in April and is now officially launched here in Russia.
Wraith is the boldest, most dramatic and powerful Rolls-Royce in history. Featuring a contemporary two-door design, Wraith's striking fastback body epitomises power, style and drama and was inspired by the great Grand Tourers of the Thirties. It is a fine example of UK advanced engineering, demonstrating excellence in technology and design. For over a century a Rolls-Royce motor car has featured technologies designed to meet the latest customer demand.
In parallel to its public debut Wraith is now also on display in Moscow's Rolls-Royce showrooms. Its first customers will receive their Wraith models in the fourth quarter of 2013.
Following a significant growth in Rolls-Royce sales over the last two years, Russia has taken an increasing share in the Rolls-Royce global success story. Two dealerships represent the manufacturer of luxury products in Moscow, the city with the largest number of millionaires in the world.
Speaking at the event Barbara Habberjam, Minister Counsellor (Economic and Trade & Investment) of the British Embassy, said:
The iconic Spirit of Ecstasy embodies like no other figurine the Best of British and we are delighted to welcome the latest Rolls-Royce to the home of the British Ambassador in Russia. The new Wraith illustrates once again that Britain is GREAT for Innovation and innovation lies at the heart of British culture.
James Crichton, Regional Director Rolls-Royce Motor Cars Europe, commented:
We are extremely proud to present Wraith in Moscow. Inspired by grand Italian and British fastback design from the 1930s, Wraith is a step forward for Rolls-Royce. It is the perfect choice for Russian connoisseurs seeking our famous effortless driving experience in a car with a powerful new character.
Published 7 June 2013