Press release
Roads Minister approves scheme extension: three more miles of A1 Western Bypass to be widened
The Roads Minister has given the green light for the Highways Agency to widen more of the A1 Western Bypass at Gateshead – helping to tackle congestion and support economic growth and local development.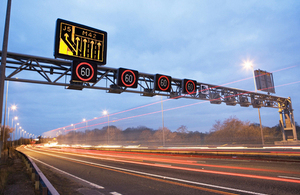 This will see 3.98 miles of the A1 widened to three lanes in both directions – an additional 3.05 miles to what was previously planned, meaning the Western Bypass will be improved from the Coal House junction up to the Metro Centre junction, not just from Lobley Hill to Dunston.
As well as widening the A1, a new 0.33 mile parallel link road will be built adjacent to the main line A1, for north and south-bound traffic, between Lobley Hill and Gateshead Quays. This will provide a route for local road users, helping to keep traffic moving on the A1.
The extension has been made possible through £19million savings identified in the design phase of the original scheme, with the Department for Transport agreeing to reinvest these savings into the North East.
Roads Minister, Robert Goodwill commented:
I am delighted that we have been able to reinvest the £19m savings made during the design process into further improving the infrastructure of the North East. The A1 Western Bypass is a key strategic route and the provision of parallel link roads for local traffic will ease congestion and improve journey times.
Highways Agency project manager, Lynne Biddles, commented:
Once complete this scheme will increase capacity, reduce congestion for people using the A1 Western Bypass, and help support planned development in this area. Now the business case for extending it north to Metro Centre and south to Coal House has been accepted the benefits will extend even further.
The scheme will now be known as A1 Coal House to Metro Centre. Construction is due to start in 2014/15. Members of the public or other interested parties can find out more about the scheme by visiting the website at http://www.highways.gov.uk/A1CoalhouseMetroCentre , writing to the A1 Coal House to Metro Centre Project Team at Major Projects North, Highways Agency, Lateral, 8 City Walk, Leeds, LS11 9AT, emailing them at A1CoalHousetoMetroCentre@highways.gsi.gov.uk, or calling the Highways Agency Information Line on 0300 123 5000.
General enquiries
Members of the public should contact the Highways Agency Information Line on 0300 123 5000.
Media enquiries
Journalists should contact the Highways Agency press office on 0844 693 1448 and use the menu to speak to the most appropriate press officer.
Published 24 April 2014