Press release
Road works congestion eased in new phase of Denton Island improvements
Drivers using the M60 and M67 and local roads in Tameside will find congestion associated with the £5.3 million Denton Island Interchange roundabout improvement easing this week.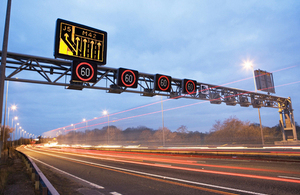 The project is entering a new phase from today (Wednesday 8 October) with all running lanes restored to the A57 and M67 onto the roundabout with the M60 at junction 24.
A lane of the westbound M67 onto the roundabout has been closed for most of the second phase of the project which began in July while a lane of the A57 which runs parallel to the westbound M67 has also been closed for the past month.
After work earlier this week and last night, both lanes have now been re-opened allowing drivers to benefit from improved arrangements for using the roundabout. Eventually, drivers heading from the westbound A57 and M67 will also be able to use a new free flow lane onto the clockwise M60. This improvement will be the focus of the next phase of the work.
Mark Mosley, the Highways Agency's project manager, said:
We would like to thank drivers for their patience and support as we have worked to deliver the second phase of this important improvement project.

We recognise that needing to close a lane of the A57 over the last month has added to road works congestion. Although we will continue to monitor traffic, the early signs from our adjustments this week suggest congestion onto the roundabout has eased considerably.
The first phase of the Denton Island project – including providing more room on both exit slip roads onto the roundabout from the M60 and a dedicated left turn for drivers leaving the anti-clockwise M60 for the Manchester-bound A57 – started in November last year and opened to drivers in April.
The project at Denton Island is one of 123 in the Government's £317 million 'pinch-point' initiative – a two year programme of targeted works being delivered alongside larger schemes and routine maintenance and improvements along the strategic road network.
The pinch-point programme, devised with the input of councils and local enterprise partnerships, is designed to help stimulate new development and local economic growth by improving road safety and tackling congestion bottle necks. In all, 28 projects, worth £66 million, are being delivered across the North West.
General enquiries
Members of the public should contact the Highways Agency Information Line on 0300 123 5000.
Media enquiries
Journalists should contact the Highways Agency press office on 0844 693 1448 and use the menu to speak to the most appropriate press officer.
Published 8 October 2014