World news story
Road Safety Roundtable, Dar es Salaam, 2 September 2013
In Tanzania, road accidents are one of the top 5 causes of death.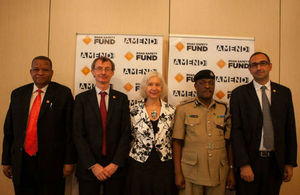 Road crashes are one of the top five causes of death for children and young people in Tanzania, and the number one killer of young men in their twenties.
There is growing recognition of the need to respond, with coordinated action to prevent road traffic injuries. On Monday 2nd September British High Commissioner Dianna Melrose was a keynote speaker at a roundtable event in Dar es Salaam convened to discuss the road safety situation in Tanzania. In her speech she said ; 'Recently one of my colleagues was involved in a collision between 3 motorbikes in which 3 people died. He was seriously injured but lucky to have escaped alive.
It was a stark reminder of the tragic toll of road accidents in Tanzania. Across the region they are a leading cause of death and injury of children and young people, and the number one killer of men in their early twenties. Children face serious risks crossing the road to get to school and with more traffic and more motorcycles the challenges of reducing the death toll in Tanzania are increasing.
Just last week we saw an appalling bus crash in Kenya in which 41 people lost their lives. That accident made headlines around the world. But the WHO estimates that the same number of people is being killed on the roads here in Tanzania every two days.
These accidents place a huge strain on overstretched health services. Poor people are particularly vulnerable. The loss of a breadwinner or ability to work can deny children the right to an education, accentuate poverty and act as a brake on economic development.
So the work you are doing to raise the profile of road traffic injuries, and the steps you are taking to reduce them are vitally important. I congratulate the Government of the United Republic of Tanzania on its plans for a new lead agency for road safety. This is one of the most important foundations for success in driving down road traffic casualties.
The United Kingdom now has one of the best road safety records in the world, and road fatalities are at their lowest since records began back in the 1920s. But we have only achieved this after many decades of making mistakes. We have learnt the hard way that road safety requires constant innovation, vigilance, consistent awareness raising and police enforcement.
I am pleased that DFID, with other development partners, is actively supporting Tanzanian efforts to improve road safety in DFID's case through Amend .I congratulate the organisers of today's Roundtable, and I hope the Tanzanian government will be supported in redoubling its efforts to improve road safety. I wish every success in this vital undertaking.'
Organised by local NGO Amend and the Road Safety Fund, an initiative of UK-based international charity the FIA Foundation and the World Health Organization, the meeting brought together Tanzanian officials and representatives of donor organisations including the UK Department for International Development (DFID), USAID, the Japanese International Cooperation Agency (JICA) and the European Union.
The meeting was chaired by Kevin Watkins, Director of the UK's Overseas Development Institute, and heard from NGOs active in the frontline of road safety, working on boda boda training, road design assessments and campaigns to reduce traffic speed around Tanzanian schools. The meeting was also addressed by General John Minja, Commissioner General of the Tanzanian Prison Service, who outlined a proposed scheme, in partnership with the Tanzania Helmet Vaccine Initiative, for non-profit production of cheap, safe and durable 'tropical' motorcycle helmets.
Published 5 September 2013