World news story
Request for services of a legal expert for project in Macedonia
Legal expert services required for implementation of a programme for creation of joint interpretation capacities for rare languages.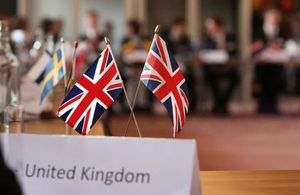 The project Improvement of the Procedures for Establishing Identity of Irregular Migrants in the Migration Asylum, Refugees, Regional Initiative (MARRI) Region, implemented by the MARRI Regional Centre and supported by the British Embassy Skopje, aims to develop and adopt a regional legal framework which will be used as a platform for establishing joint database of interpreters for rare languages thus standardise the measures on MARRI Participants level in determining the personal identity of irregular migrants.
The overall assignment for the legal expert should take place in the period from 1 August 2015 – 1 March 2016.
The following Terms of Reference (PDF, 181KB, 4 pages) are designed in the direction to support the achievement of these objectives.
Interested candidates should e-mail their application letter, CV and references to info@marri-rc.org.mk.
Deadline for application is 13 July 2015.
British Embassy Programme Assistance
Connect with us on Facebook or follow us @ukinmacedonia
Connect with the British Ambassador on Facebook or @BritAmbCGarrett
Read our blog UK in Macedonia
Published 5 July 2015