Press release
Reminder: Exhibitions take place this week for M54 to M6/M6 Toll link road route consultation
Exhibitions take place later this week where members of the public can view the Highways Agency's proposals for a new link road between the M54, the northbound M6 and the M6 Toll.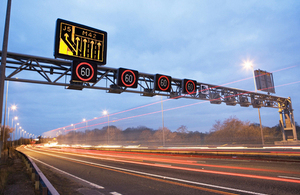 Three route options will be unveiled at the exhibitions which take place at the following locations:
Featherstone and Hilton Community Centre, Baneberry Drive, Featherstone, Wolverhampton, Staffordshire WV10 7TR.
Friday 5 December between 2pm and 8pm. Saturday 6 December between 10am and 4pm.
Shareshill Village Hall, 1 Elms Lane, Wolverhampton WV10 7JS.
Sunday 7 December between 10am and 4pm. They mark the start of an eight-week public consultation for the scheme, which will reduce congestion on local roads, improve safety and support economic growth in the surrounding area.
For those unable to attend the exhibitions a consultation leaflet explaining the route options will be available from Friday 5 December on the Highways Agency website and at a number of local deposit points.
People will also be able complete an on-line questionnaire on the scheme website, submit comments to:
M54 to M6/M6 Toll project team,
The Cube,
199 Wharfside Street,
Birmingham B1 1RN

or email M54toM6/M6tolllinkroad@highways.gsi.gov.uk.
The consultation closes on 30 January 2015.
To stay up to date with the latest developments visit the Highways Agency's scheme website, where you can also register to be kept informed about news on the scheme.
General enquiries
Members of the public should contact the Highways Agency Information Line on 0300 123 5000.
Media enquiries
Journalists should contact the Highways Agency press office on 0844 693 1448 and use the menu to speak to the most appropriate press officer.
Published 2 December 2014