World news story
Rehabilitated Zarqa pumping station to provide more reliable water supply to 500,000 residents
The ceremony to mark the completion of the improvements took place on 6 July 2015 in Zarqa.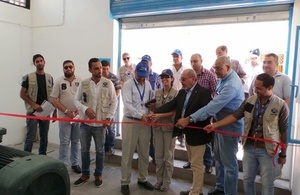 Work to improve the efficiency of the Zarqa water pumping station has been completed and will directly benefit more than half a million people in the area with a more regular and reliable water service. Water loss at the pumping station will be greatly reduced following the improvements.
The rehabilitation work was carried out in partnership with the Ministry of Water and Irrigation by the international NGO, ACTED, with support from UNICEF Jordan and funding from UKAid. The ceremony to mark the completion of the improvements took place today in Zarqa. In attendance was the Secretary General of the Water Authority of Jordan, Eng. Tawfiq Al-Habashneh, as well as representatives from UNICEF Jordan and ACTED.
At the event, ACTED Jordan's Country Director, Byron Pakula said, "Providing support to water supply infrastructure in Jordan is one of ACTED's foremost priorities. The rehabilitation of this pumping station marks an important stage in ongoing efforts to improve the delivery of potable water to Jordan's communities."
UNICEF Jordan Representative, Robert Jenkins, said, "UNICEF will continue collaborating with the Government of Jordan and partners in improving regular and safe water delivery for the health and well-being of all children in Jordan and their families. Given the strain on water resources in Jordan, it's critical that the water network is working as efficiently and effectively as it possibly can."
UK Ambassador to Jordan, H.E. Edward Oakden, said, "I'm proud that the UK is helping towns like Zarqa improve key infrastructure such as this water pumping station. The UK wants to ensure that Jordanian communities have the support they need to remain resilient, especially now as they generously host large numbers of Syrian refugees. This year alone we will be supporting Jordan with more than $110 million, which is just one aspect of our growing partnership in a challenging region."
In addition to providing a more reliable and regular amount of water the rehabilitated station represents an important step towards achieving improved water demand management. In Jordan, a range of water sources are used - predominantly deep boreholes and secondary springs in the hilly areas in the north. In most cases, several water sources feed the same networks, via centralised pumping stations, like the one in Zarqa, where water storage and treatment usually take place.
Jordan is one of the most water scarce countries in the world and the influx of refugees has further highlighted the importance of an effective water network across the country. UNICEF Jordan, ACTED and UKaid continue to provide support to the Ministry of Water and Irrigation in rehabilitating infrastructure across Jordan to ensure the provision of safe water and sanitation services, particularly to those most affected by the refugee crisis.