Record year for waste diversion
LLWR enjoyed a record year, diverting more waste from our Repository than ever before.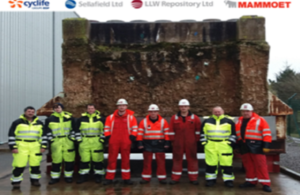 LLWR enjoyed a record year, diverting more waste from our Repository than ever before.
Some 3,858 tonnes of metals were diverted in 2016/17, which was more than double the previous year's total of 1,505. In addition, 3,100m³ of waste went down the Combustible route compared to 2,216m³ in 2015/16, and the volume of Very Low Level Waste diverted also increased from 5,311m³ to 6,509m³ last year.
Lead Service Delivery Manager, Damian Seath said:
It was an excellent year for us. We exceeded customer expectations. We worked as a team to a plan and showed what we can do. We delivered more this year than last with less resource.
Service Delivery managed a record 52 transports and approved 82 waste consignments in the final week of the financial year, to meet unprecedented customer demand. Counterparts at Sellafield showed their appreciation of the Waste Management Services (WMS) effort by sending the team sweets and chocolate.
Damian added:
It shows our relationship with our biggest customer is at an all-time high.
WMS brought the financial year to a successful end by facilitating the movement on 31stt March of a massive 100-tonne concrete block from Sellafield.
The project was led for LLWR by Service Delivery Manager Jenny Prince with strong support from colleagues, and they worked to extremely tight timescales, with a great deal of collaborative working between LLWR, Sellafield, Cyclife and lifting contractor Mammoet.
The Tritium block was successfully consigned to the Cyclife facility at Lillyhall, supporting a waste management milestone for Sellafield to complete before the end of the financial year.
Collaboration was also to the fore to enable Capenhurst Nuclear Services (CNS) to deliver a consignment of ION Exchange resins to Tradebe Inutec, again, before the end of the fiscal year.
This project required significant co-operation between LLWR, CNS, and the Magnox Ltd central team to ensure safety case amendments were completed at the Winfrith site, allowing Tradebe Inutec to accept the waste in time.
In another example of collaborative working, LLWR opened new diversion routes for low level waste from Rolls Royce in Derby, which for many years was super-compacted and disposed of in the vaults at LLWR. It now utilises a Combustible route, preserving disposal capacity at the Repository.
Andrew Hetherington, Service Delivery Co-ordinator, expects LLWR to manage even higher volumes of waste in 2017/18. He said:
Rolls Royce has a disposal route it can have confidence in, ensuring continuity of disposal, and there's also an improvement in environmental terms.

Based on forecasts, the year ahead will be even more challenging than the last one.
Published 13 April 2017