Record showing in project management awards shortlist
Sellafield Ltd has a record number of entries in the finals of this year's Association of Project Management (APM) Project Managers Awards.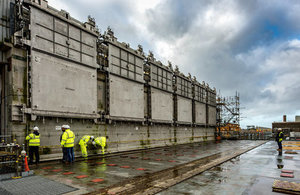 The awards, the finals for which take place in London on 18 November 2019, recognise excellence in project management.
Sellafield Ltd and its partners were up against stiff competition this year – but managed 4 places on the shortlist.
In previous years the most that's been achieved is one placing.
The projects up for awards are:
Organisation and other awards; Contribution to the profession award - Sellafield Ltd
Projects and programmes awards - Cavendish Nuclear for the Pile Fuel Cladding Silo Project
Transformation project of the year award - Program Planning Professionals Ltd and Sellafield Ltd for the Lean Project Delivery Improvement Project
Engineering, Construction & Infrastructure Project of the Year Award - Sellafield Ltd for the Silo Maintenance Facility Project
Head of Project Management Capabilities, Sellafield Ltd, Neil Crewdson said:
Having 4 entries in this year's finals is a tremendous achievement for us and our supply chain partners. It is a real example of how the projects we are delivering at Sellafield are seen as the best in their class.
The Senior Engineering Manager for Cavendish, Dr Sebastian Proctor said:
I'm immensely proud of this project and what has been achieved collaboratively. We have gone from a position where we had no workable solution for getting the waste out to being ready for active retrievals in just 3 years.

There has been some exemplary learning around critical hazard reduction projects.
Published 23 July 2019