World news story
Record numbers at British Embassy visa service
High numbers of applications and an extension of service days marked the British Embassy's periodic visa service in Laos this week.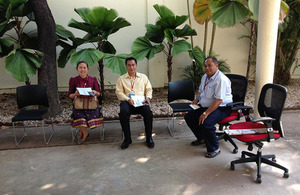 A record number of 60 applications kept UK visa staff busy during the British Embassy's visa service which ran from 5-7 February. VFS Global, the company in charge of recording the applicants' biometric data and handling applications decided to expand the originally intended one-day service to 2.5 days because of unprecedented demand. Figures show a steady increase in numbers of Lao nationals travelling to the UK in the last 3 years as well as an elevated interest in organising tours to the UK from tour operators in both Laos and Thailand's Isaan region.
Ambassador Malone said:
I am pleased to see more Lao citizens travelling to the UK both professionally and for leisure. With a 4 times higher demand than during our first visa service , I am confident we can professionally cater to visa applicants and maintain the high standard of service customers expect from us.
This week's visa service, which operates approximately every 3 months, is the third time the British Embassy has held such a service in Laos, meaning that residents of the Lao PDR no longer need to travel to Bangkok to apply for a UK visa. Subsequent visa service dates are likely to be held in May, August and November 2014. For more information, please visit the UK Border Agency's page on Laos.
Published 7 February 2014