Record number of UK companies are participating in Dubai Hotel Show 2013
UK companies with dynamic products and services participating in this year's Hotel Show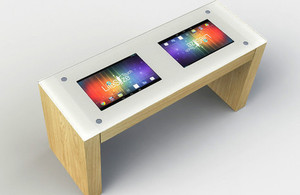 A record 32 UK companies with dynamic products and services participating in this year's Hotel Show taking place in Dubai from 28-30 September at Dubai World Trade Centre. This is the 14th year of Hotel Show and UK Trade & Investment (UKTI) is working closely with Birmingham Chamber of Commerce Group and the British Contract Furnishing & Design Association (BCFA) to promote British companies to Gulf-based hoteliers, architects, specifies and interior designers by assisting them to attend this prestigious show.
Exclusive launch: The UK exhibitors at the Hotel Show 2013 will cover a wide and remarkable range of high end products. A number of UK companies will be launching their products in the Gulf market for the first time.
First time in Middle East: The Future is here:
LifeSize Touch Limited, will be unveiling their state of the art full interactive touch screen tables and displays in the Middle East. These tables and displays are so intuitive and intelligent that they can interact with users in many different ways and can even work as virtual assistants.
Leading London based interior designers Giles Miller Studio (famously known in the UAE for designing columns and women's VIP area in Level Shoe District, Dubai Mall) will be officially launched in the Middle East.
Another great debutant at this year's show is Hill Cross Furniture, famous for their work in The Royal Yacht Britannia, Disney Cruise Ships and Hilton Hotels.
UK Trade & Investment Creative Industries Sector Lead, Ms Ranjana Abraham, said:
I am delighted to welcome record number UK companies in the Hotel Show 2013. UK Trade & Investment has been involved with the Hotel Show in Dubai for more than a decade and this year we probably have the widest range of products from UK companies. We are pleased that our companies will be showcasing some wonderful items- from ultimate wall coverings (Lincrusta, which has been using a unique technique since 1877) to futuristic interactive table and display units (LifeSize Touch Limited); from world's leading ethically sourced hotel toiletries (Concept Amenities) to world class furniture (Hill Cross Furniture Manufacturer and Interior Designers).
Mike Allsopp, Senior Vice President (Design) DMG Events, the organiser of Hotel Show, said:
Last year we had more than 450 exhibitors from nearly 50 countries across the globe and this year's The Hotel Show is even bigger and better. The Hotel Show is the most excellent place to showcase hospitality related product to the Middle Eastern market. High quality and unique British products have done really well in the region and this is why we are delighted to see more and more UK companies are coming to our show. We wish them all the success in the Middle East.
Notes to editors:
UK Trade & Investment (UKTI) is the government department that helps UK-based companies succeed in the global economy. UKTI also helps overseas companies bring their high quality investment to the UK's economy – acknowledged as Europe's best place from which to succeed in global business. UKTI offers expertise and contacts through its extensive network of specialists in the UK, and in British embassies and other diplomatic offices around the world. For more information on UKTI, visit www.ukti.gov.uk
Press Contact:
Abeer Abu Gharbiya
Communications Manager
British Embassy, Dubai
Email: Abeer.Gharbiya@fco.gov.uk
Phone: +971 (0)4 309 4358
UKTI Contact:
Ronnie Mirza
Trade & Investment Officer
British Embassy Dubai
Email: Ronnie.mirza@fco.gov.uk
Phone: +971 (0) 4 309 4279
Published 26 September 2013