Press release
Record number of entries as Highways Agency awards its supply chain
The Highways Agency has announced the winners of its Supplier Recognition Scheme, with a quarter of the victors from small and medium enterprises (SMEs).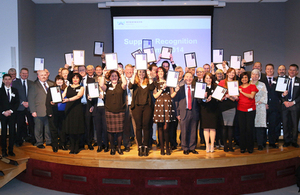 The annual recognition scheme highlights the vital contribution made by the Agency's suppliers who help it operate, maintain and improve England's network of motorways and A roads.
This year entries for the awards increased significantly – as 118 bid for the honour to receive public recognition from the Agency across seven categories.
These included the extended supply chain and small and medium enterprises – of which three won awards in the Managing down cost and Promoting diversity and inclusion categories.
Meanwhile the new Safety, health and wellbeing category proved an overwhelming success as three suppliers picked up awards and five others were highly commended for their work towards improving road user and road worker safety.
Graham Dalton, Chief Executive of the Highways Agency said:
This year our recognition scheme received more than double the number of entries compared to last year – that is simply fantastic.

It's also a strong indication of the steps our suppliers have made in bringing innovation into the workplace.

I find it truly heartening that at a time when the safety of our road workers is of paramount importance, there were three companies besides the winner worthy of a high commendation in that category.
Winners and highly commended as follows:
Building and sustaining capability – awarded to suppliers that have developed their employees' skills and capabilities through delivery of Highways Agency contracts.

awarded to: Costain Ltd for their engagement with skills and employment organisations that led to apprentices and young staff being recruited for the M1 junctions 28-31 Smart Motorway scheme
highly commended: Carillion Civil Engineering

Customer Experience - awarded to suppliers that have demonstrated industry leading commitment to customer service.

awarded to: Carillion Civil Engineering for their work to involve the local community during the A23 Handcross to Warninglid scheme including visits to schools and providing public liaison 24 hours a day
Costain Ltd for their proactive engagement with customers, stakeholders and communities during the M1 junctions 28 -31 Smart Motorway scheme
highly commended: Mouchel (designer) and Carillion (delivery partner)

Delivering sustainable value and solutions – awarded to suppliers that have integrated environmental, social, economic and management aspects of sustainable development into the delivery of Highways Agency contracts.

awarded to: Interserve Construction Limited for their work on an ambitious sustainability framework and action plan which goes beyond 2020
highly commended: Costain Group plc; Sir Robert McAlpine and AW Jenkinson

Safety, health and wellbeing – awarded to suppliers that show industry leading commitment to improving organisational, workforce and road user health and safety.

awarded to: A-One+ Integrated Highway Services (Occupational health and wellbeing aspect) for embedding occupational health and wellbeing as a core value and proactively promoting benefits with its road workers
Costain Ltd (Road Users aspect) for a series of site measures and safety initiatives including targeting driver behaviour through the use of personal messages from the children of road workers
Skanska Construction UK Ltd (Road Workers aspect) for its efforts to improve road worker safety collaboratively including the construction of a simulated motorway for emergency services and workers as part of incident management exercises
highly commended: Road Workers aspect - Carnell Group; Hanson Asphalt & Contracting; Colas Ltd; Road user aspect - Atkins; EM Highway Services Ltd

Managing down cost/improving value – awarded to suppliers that have demonstrated significant achievement by delivering Highways Agency contracts in smarter, more efficient ways.

Awarded to: Carnell Group for their work in providing innovative solutions to make savings, including an environmentally friendly way of recycling filter drain material
WSP for their work on the A19 Coast Road which generated construction cost savings and reduced the need to work at height by proposing top down construction of a new bridge
Simulation Systems Ltd for developing and deploying a highly effective infra-red CCTV system for a Smart Motorway in just five months which reduces the need for street lighting
highly commended: Carillion Civil Engineering; Skanska, Balfour Beatty, Atkins with Simulation Systems Ltd and Wavetronix

Promoting diversity and inclusion – awarded to suppliers that have created opportunities to bring people into the workplace, developed skills and created an environment where differences are valued and utilised.

awarded to: EM Highway Services Ltd and Recycling Lives for being involved in a host of projects to attract people into the sector and develop them as well as a series of measures supporting a culture of inclusion
highly commended: BAM/Morgan Sindall JV

Supply chain management – awarded to suppliers that demonstrate the Highways Agency's strategic agenda, values and principles through supply chains.

awarded to: The Collaborative Procurement Working Group (CPWG) – Carillion, BAM/Morgan Sindall, Costain, Balfour Beatty, Asset International, Polypipe and Saint Gobain for their joint work to overcome a shortage of temporary barrier and avoid delays by implementing effective strategies through the supply chain
highly commended: Connect Plus M25 Ltd; Norbert Dentressangle Logistics UK; Skanska UK Plc
General enquiries
Members of the public should contact the Highways Agency Information Line on 0300 123 5000.
Media enquiries
Journalists should contact the Highways Agency press office on 0844 693 1448 and use the menu to speak to the most appropriate press officer.
Published 19 January 2015