World news story
Reaching out to every school pupil in South Sudan
UK-aid funded textbook project sees every effort put in to ensure primary school students in even the remotest villages have access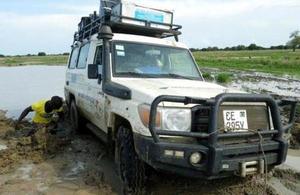 During her visit to Juba in October 2012 Lynne Featherstone launched the distribution phase of a massive UK-aid funded effort to ensure every primary school student across South Sudan gets access to a textbook.
Visiting South Sudan today Mark Lowcock, DFID's Permanent Secretary, was able to see the progress that has been made in the face of huge logistical challenges.
So far a total of 7.2 million out of 9.6 million textbooks and readers have been delivered reaching around 1.27 million boys and girls in over 2800 primary schools and almost 1000 accelerated learning centres across South Sudan.
Distribution has been completed in Lakes State, Northern Bahr El Ghazal State, Warrap State, Western Bahr El Ghazal State, Central Equatoria State, Western Equatoria State and Eastern Equatoria State (except Lafon county).
Partial deliveries have been made in Jonglei, Unity and Upper Nile State. In the meantime deliveries to Greater Upper Nile and Lafon County had to be deferred due to poor road condition until the dry season when roads become passable, currently estimated to be in early 2014.
We have conducted spot checks to random schools across the country to check on the accuracy of delivery and the extent to which schools are adhering to textbook guidelines.
Published 1 October 2013