Ramadan 2011: Deputy Prime Minister message
Nick Clegg has sent his best wishes to Muslims in Britain and around the world at the start of the holy month of Ramadan.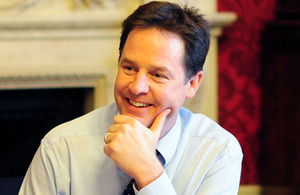 Nick Clegg message for Ramadan
Mr Clegg said this was a time to reflect on the "spirit of human charity" especially with Ramadan starting almost exactly a year since the catastrophic floods in Pakistan.
The Deputy PM said:
A catastrophe in which aid and support from the UK made an enormous difference to the lives of hundreds of thousands of people…Something I saw first hand.
Even though Pakistan is now off our television screens, that support needs to continue, and the UK will continue to play our part, working with charities and the affected communities themselves.
In Ramadan's tradition of quiet contemplation, I'm sure thoughts will also turn to the Arab Spring, and the popular uprisings we are witnessing across the Arab world in the name of liberty over oppression.
Read more: UK response to the Pakistan floods - one year on (DFID website)
Published 29 July 2011