Radioactive sludge makes momentous move to modern storage
For the first time, radioactive sludge from the world's oldest nuclear storage pond has been packaged safely within a modern store.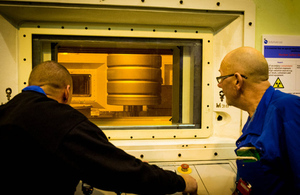 The radioactive sludge from the nuclear storage pond at Sellafield has been packaged safely within a modern store, ready for long-term disposal.
The sludge has been transferred from the pond to a new encapsulation plant, where it is grouted and processed into a storage state ready for final disposal in the UK's geological disposal facility.
Sludge is an unplanned by-product of the nuclear industry formed from decaying nuclear fuel, natural growing algae and other debris.
The mud-like substance has developed in the depths of the Pile Fuel Storage Pond during its 65-year lifespan, and is now being removed so the facility can be safely decommissioned.
This key step follows years of careful planning and preparation and it will take several years to remove all of the sludge in the pond.
Encapsulation is a process that used to enclose the substance into a new safe state ready for storage. The sludge arrives directly from the pile fuel storage pond in a 500L drum that it is to be stored in, cement is added and is then mixed up using a stirrer in the drum, much like a big food mixer.
Once the mixture is cured and a cement cap has been added, the drum can be lidded and transferred remotely to a modern storage plant where it will remain pending final disposal to a long-term facility.
The project is being delivered 10 years ahead of schedule and for half of the predicted cost of £200 million. A 10-year project to dewater the pond will start in 2019, while sludge is still being removed.
The 100-metre long pond was originally used to store nuclear fuel used to make atomic weapons.
Speaking about the success, Eric Bowe, head of encapsulation plants said:
This is a great achievement for us. It is the first drum of historic sludge to be encapsulated and stored ready for long-term storage.

This is one of the first examples of a legacy facility producing a waste ready for a geological disposal facility – it's a cradle-to-grave solution.
Published 14 February 2017