News story
Queen's Speech: UK Government will "continue to deliver for people across Scotland"
Nine of the 11 bills included in legislative programme will apply in Scotland.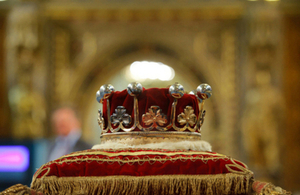 This year's Queen's Speech contains a range of measures designed to support families, firms and fairness across Scotland, the Scottish Secretary said today. Nine of the eleven new Bills will apply in Scotland.
The UK Government's legislative programme was announced during the State Opening of Parliament and contains measures to support families with childcare costs, small businesses with access to finance and give pensioners greater freedom to access their savings.
Alistair Carmichael said:
We are building on strong foundations for a prosperous and exciting future in Scotland. This legislation will help improve the lives of people across the country and lend a helping hand to working families and the businesses at the heart of our economy.

At the same time we will further support the North Sea industry and give Scotland's pensioners security and flexibility over their retirement funds. It is a comprehensive package for Scotland and I welcome the positive changes it will bring.
Legislation such as the Childcare Payments Bill will see around 160,000 families in Scotland eligible for help with their childcare costs, up to a maximum of £2,000 per year for each child. Some 325,000 small and medium-sized businesses in Scotland will benefit from the Small Businesses Bill, making it easier for firms to access finance.
It also focuses on maximising our North Sea resources, powers to tackle serious crime across the UK and support for Armed Forces charities.
This parliamentary Session will also see the Government affirm its commitment to devolution by commencing vital provisions of the Scotland Act 2012.
This is the last legislative programme before the General Election in 2015 and underlines the Government's commitment to economic growth and deficit reduction.
The speech also reiterated the commitment of the UK Government of making the case for Scotland to stay in the UK.
Chief Secretary to the Treasury Danny Alexander comments on the Queen's Speech
The Legislative Programme and Scotland
Nine of the eleven new Bills apply in Scotland, either in full or in part. They are:
Armed Forces (Service Complaints And Financial Assistance)
Childcare Payments
Infrastructure
National Insurance Contributions
Pensions Tax
Private Pensions
Recall Of Members Of Parliament
Serious Crime
Small Business, Enterprise And Employment
Bills which will not apply in Scotland are:
Social Action, Responsibility and Heroism
Modern Slavery
Devolution
From April 2015, UK Stamp Duty Land Tax and Landfill tax will be switched off in Scotland and the Scottish Parliament will introduce new taxes to replace them. Scottish Ministers will also have enhanced borrowing powers and, from April 2016, a Scottish rate of Income Tax will also be introduced.
Bills which extend to Scotland – in full or in part
Armed Forces (Service Complaints and Financial Assistance) Bill
A Bill to improve the complaints system in the Armed Forces through the creation of an ombudsman.
Childcare Payments Bill
A Bill to help working families with childcare costs.
Infrastructure Bill
A Bill to bolster investment in infrastructure and reform planning law to improve economic competitiveness
National Insurance Contributions Bill
A Bill to tackle avoidance of contributions and to simplify their collection from the self-employed.
Pensions Tax Bill
A Bill to give those who have saved discretion over the use of their retirement funds.
Private Pensions Bill
A Bill to allow for innovation in the private pensions market to give greater control to employees.
Recall of Members of Parliament Bill
A Bill to introduce a mechanism for the Recall of Members of Parliament.
Serious Crime Bill
A Bill to tackle child neglect, disrupt serious organised crime and strengthen powers to seize the proceeds of crime
Small Business, Enterprise and Employment Bill
A Bill to help make the United Kingdom the most attractive place to start, finance and grow a business.
Bills which do not extend to Scotland
Modern Slavery Bill
A Bill to strengthen the powers to prevent modern slavery and human trafficking whilst improving support for victims of such crimes.
Social Action, Responsibility and Heroism Bill
A Bill to provide that where a person acts heroically, responsibly or for the benefit of others, this will be taken into account by the courts.
Published 4 June 2014