Queen's portrait given pride of place in government department
A portrait of Her Majesty The Queen has been unveiled in the reception of the Department for Communities and Local Government.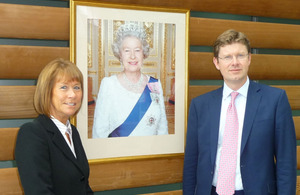 One of Communities Secretary Eric Pickles's first actions after his appointment in May was to order the portrait, putting the Monarch centre stage in the department's Eland House headquarters in central London. There was previously no portrait at all in the entire Whitehall department, despite it being the legal title holder of the government's civil estate on behalf of the Crown.
The portrait was unveiled in a ceremony in the department's headquarters attended by Minister of State Greg Clark and Acting Permanent Secretary Irene Lucas.
Eric Pickles said:
The Queen has an extremely important role to play in unifying people, no matter what their social background, race or religion. I'm delighted this portrait has now been given pride of place in the building and I hope it will encourage other government departments, councils and businesses to follow suit.
The small capital cost of the new official portrait in Eland House, Victoria, was funded through savings made by consolidating 7 sets of papers and periodicals for ministers and special advisers, delivering over £15,000 a year in ongoing revenue savings.
Published 1 September 2010