World news story
Queen's Baton Relay Spends three days in Cameroon
This was published under the 2010 to 2015 Conservative and Liberal Democrat coalition government
The Queen's Baton Relay which announces the Glasgow 2014 Commonwealth Games was in Cameroon from the 8th to the 11th of January.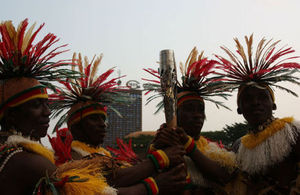 The Queen's Baton Relay landed at the Douala International airport on the 8th of January and was received by the Secretary General at the Littoral Governor's Office, Mr. Ludovic Ngwaba, the representative of the Minister of External Relations, Mr. Maxwell Jing; the Vice President at the National Olympics and sports Committee, Mr. Victor Agbor Nso and the Political and Commonwealth Officer at the British High Commission, Anne-Chantal Besong.
The three man QBR team led by the main Baton bearer Adam Best was also accompanied by a team from the BBC which had as task shooting a documentary of the QBR's passage in Cameroon.
An official welcome speech by the representative of the governor of the Littoral Region and a response from Mr. Adam Best, Baton bearer marked the official welcoming of the QBR in Cameroon.
The team left Douala, the economic capital for the political seat of the country Yaoundé on the same and where welcomed later by H.E. Brian Olley, British High Commissioner to Cameroon.
On the 9th of January, the main event to mark the stay of the Queen's Baton Relay in Cameroon took place, a roughly 10km mini marathon , in which the QBR went around some key streets in Yaoundé, starting off from the reunification monument and ending at the Yaoundé city hall.
During the ceremony that closed the mini marathon, Sports and Physical Education Minister, H.E Adoum Garoua officially received the Baton on behalf of the Prime Minister Philemon Yang and the President of the Republic Paul Biya. A colourful dance display ended the mini marathon's closing ceremony.
QBR team later on the 10th of January visited the Ministers of Sports, the Commonwealth Minister and the National Olympics Committee's President. The team was also received at the British High Commission in Yaoundé and H.E. Olley, British High Commissioner to Cameroon, hosted a reception in honour of the QBR at his Bastos residence. The event witnessed the signing of the 33Fifty book produced by UK Company De La Rue by a 25 year old young Cameroonian, Anne-Helen Ekure Takow.
The team took off from Cameroon on the 11th of January en route to Kenya, the next stop of the Queen's Baton and its bearers.
Document information
Published: 12 January 2014