World news story
Queen's awards recognise community contributions
Certificate and Badge of Honour awarded to three Falkland Islanders.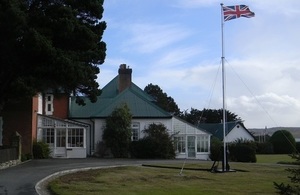 His Honour the Acting Governor is pleased to announce the Queen's Certificate and Badge of Honour awards for 2017.
Executive Council approved the nominations for Mrs Ellen Davis and Mr Leslie & Mrs Jill Harris in recognition of their respective loyalty and meritorious conduct, providing services of exceptional benefit to the people of the Falklands.
Former manager of Liberty Lodge and known as 'Mother' to many returning veterans, Mrs Davis has been awarded the honour in recognition of the help and support she has provided to veterans and their families, going above and beyond the requirements of her job. 
The honour awarded to Mr and Mrs Harris recognises the personal commitment both have made to Scouting in the Falkland Islands over the past three decades.  They have managed to enthuse a large number of young people not only about traditional Scouting activities but also those with a more local flavour, such as peat cutting. 
Planning is now underway for Mrs Davis and Mr & Mrs Harris to be presented with their awards.
Published 14 August 2017